Director – Mr. Kipp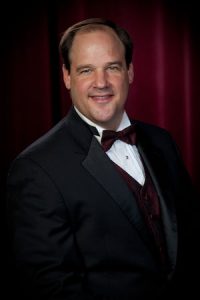 David L. Kipp is in his twentieth year as Director of Choral Activities and the thirteenth director of the Texas A&M University Singing Cadets. Kipp uses his experience in musical theater, voice, and choral direction to help the Singing Cadets perfect music for its seventy-plus concerts each year.
In addition to directing the Singing Cadets at Texas A&M University, Kipp is the Director of Choral Activities. Choral Activities also includes the Century Singers (male and female chorus) and the Women's Chorus (all-female chorus). He has been Director of Music for many churches in Texas and has presented numerous personal concerts.
For Mr. Kipp's full biography, please click here.
Accompanist – Bryce Reed
Bryce Reed is in his first year as the pianist of the Texas A&M University Singing Cadets. He is excited to use his skills as an accompanist that he has developed working with several other choirs and individual performers, both instrumental and vocal.
Bryce received his Bachelor of Music degree in piano performance from Baylor University, and is currently working on a Master of Music degree in music theory, also from Baylor. He was a member of the Baylor University Men's Choir under the direction of Dr. Randall Bradley for seven years, an officer of the group for four, and the pianist for the Men's Choir from 2016-2019. During his tenure as accompanist, Bryce toured twice a year with the choir, including performances at the American Choral Director's Association Southwest Conference in 2018 and the ACDA National Conference in 2019 in Kansas City. He also traveled internationally with the group and the Center for Christian Music Studies at Baylor on seven mission trips, and served on the leadership teams for trips to Kenya in 2017 and 2019, and Malaysia in 2018.
Bryce accompanied music students, such as vocalists at Baylor (including a trip to the 2019 NATS Competition in Denton, Texas), and UIL competitors from Valley Mills ISD. He also enjoys photography, specializing in event and concert shoots, with past clients including Baylor University and YouthCUE.