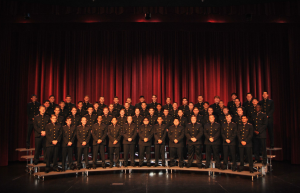 For the first time ever, the Singing Cadets have decided to move their spring concert away from Parents' Weekend to help celebrate the 125th anniversary.  Please mark your calendars and join us for this historic weekend of celebrating our storied past and bright future!
Our goal is to have 250+ Singing Cadets on stage at Spring Concert sing in our 125th Anniversary Choir (comprised of current and former members). We need your help to make this happen – round up your buds and register today!
We have reserved a block of rooms at a reduced rate at the new on-campus A&M Hotel for the weekend of the 125th Anniversary Reunionand Concert. There is a limited number of rooms – if you are interested, click here to make a reservation!
Tentative Schedule
Friday, April 5th
3:00 pm – Optional softball game with current Singing Cadets
5:00 pm – Hamburger Cookout after the softball game
9:00 pm – Happy Hour at the A&M Hotel Block-T Bar
Saturday, April 6th
10:30 am – Tentative tour of the Music Activities Center (MAC)
12:00-2:00 pm – 125th Anniversary Choir rehearsal
3:00 pm – Independent Dinner (Location TBD)
5:30 pm – Sound check in Rudder Auditorium
7:30 pm – 125th Anniversary Reunion Concert
10:00 pm – 125th Anniversary Director's Reception
Sunday, April 7th
10:00 am – Optional Brunch